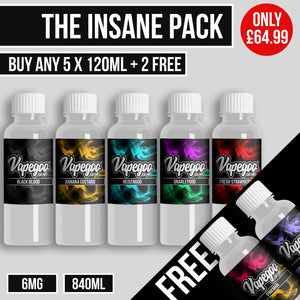 ---
What You Will Receive In Your E Liquid Pack:
The Insane Pack - 120ml 6mg package includes:
5x120ml shortfill bottles

80ml of 0mg nicotine liquid per bottle

20 x 10ml 18mg nicotine shots
Each 120ml bottle contains 80ml of your chosen 0mg Eliquid. Add 4 x10ml nicotine shot to each 80ml bottle so the final product will be 120ml of 6mg nicotine liquid.
IMPORTANT - SHAKE WELL.
For further instructions visit our How to Mix page.
Best E Liquid Deals | Everyday Cheap UK e-Liquid
About Vapegoo eLiquids
FREE Delivery | Fast Dispatch | Excellent Customer Service | UK Made
VapeGoo offers over 200 everyday e liquid flavours at cheap eliquid prices. Choose from a range of Menthol E Liquids | Tobacco E Liquids | Fruit E Liquids | Dessert E Liquids | Drink E Liquids | Sweets E Liquids
Great service
Always delievered on time and flavours are amazing. Great selection and wont order from anywhere else. Grape soda is my fave :)
Incredible
Been using Vapegoo for a couple of years and cannot fault their service, the quality of their juice, the HUGE list of flavours or the price. I get my juice exclusively from Vapegoo. You should too.
P.S Strawberry kiwi never gets old.
Didn't receive it
Apparently my order was complete 3 days ago haven't even recieved it
INSANE
RECEIVED MY The Insane Pack YOU HAVE ME HOOKED ON ONE OF THE NEW flavor's Banana thick shake fantastic flavor the packaging perfect thank you
Very good and prompt service
Very fast delivery and well packed. Great Flavours, with massive choice. Only had one minor issue when nicotine shots were not delivered with order but this was promptly rectified.