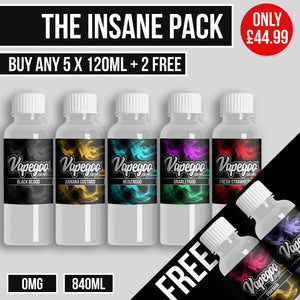 ---
What You Will Receive In Your E Liquid Pack:
The Insane Pack - 120ml 0mg package includes:
5x120ml shortfill bottles

120ml of 0mg nicotine liquid per bottle
Each 120ml bottle contains 120ml of your chosen 0mg Eliquid.
IMPORTANT - SHAKE WELL.
For further instructions visit our How to Mix page.
Best E Liquid Deals | Everyday Cheap UK e-Liquid
About Vapegoo eLiquids
FREE Delivery | Fast Dispatch | Excellent Customer Service | UK Made
VapeGoo offers over 200 everyday e liquid flavours at cheap eliquid prices. Choose from a range of Menthol E Liquids | Tobacco E Liquids | Fruit E Liquids | Dessert E Liquids | Drink E Liquids | Sweets E Liquids
VapeGoo is #1
With VapeGoo it's all about the liquid and I love that because that's all I care about, I dont care how cool the bottle is I care what I'm putting in my dripper or tank. The quality of this product is always top dog, British made, a variety of ways to make your purchase, pack size and how you pay, and when you have a question or an issue you send a message and someone gets back to you immediately and gives you great customer service. Give VapeGoo a go you won't regret it
The Best!
I love this company, love the flavours, the prices are very good and I can't believe how quickly they were delivered. Never been disappointed and don't buy from anywhere else. Huge range of flavours too :)
Highly recommended.
Insane pack
I've been a customer for years it a great quality product the favours are fantastic at a good price & the delivery
is fast ***** E juice
#THEGOAT#1
Amazing flavours, A+ service and super speedy deliveries..... don't go anywhere else, these guys have all you need!!