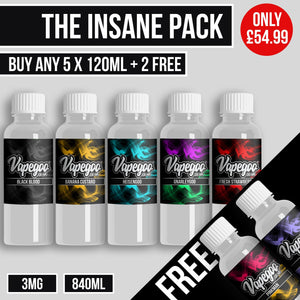 ---
What You Will Receive In Your E Liquid Pack
The Insane Pack - 120ml 3mg package includes:
5x120ml shortfill bottles

100ml of 0mg nicotine liquid per bottle

10 x 10ml 18mg nicotine shots
Each 120ml bottle contains 100ml of your chosen 0mg Eliquid. Add 2 x 10ml nicotine shot to each 100ml bottle so the final product will be 120ml of 3mg nicotine liquid.
IMPORTANT - SHAKE WELL.
For further instructions visit our How to Mix page.
Best E Liquid Deals | Everyday Cheap UK e-Liquid
About Vapegoo eLiquids
FREE Delivery | Fast Dispatch | Excellent Customer Service | UK Made
VapeGoo offers over 200 everyday e liquid flavours at cheap eliquid prices. Choose from a range of Menthol E Liquids | Tobacco E Liquids | Fruit E Liquids | Dessert E Liquids | Drink E Liquids | Sweets E Liquids