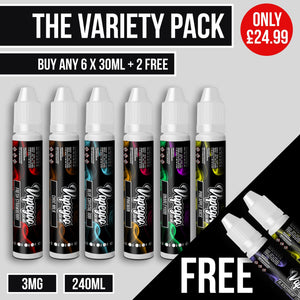 ---
What You Will Recieve In Your E Liquid Pack:
3mg package include:
8x30ml shortfill bottles

25ml of 0mg nicotine liquid per bottle

4x10ml 18mg nicotine shots
Each 30ml bottle contains 25ml of your chosen 0mg Eliquid. Add 5ml nicotine shot to each 30ml bottle so final product will be 30ml of 3mg nicotine liquid.
IMPORTANT - SHAKE WELL.
For further instructions visit our How to Mix page.
Best E Liquid Deals | Everyday Cheap UK e-Liquid
About Vapegoo eLiquids
FREE Delivery | Fast Dispatch | Excellent Customer Service | UK Made
VapeGoo offers over 200 everyday e liquid flavours at cheap eliquid prices. Choose from a range of Menthol E Liquids | Tobacco E Liquids | Fruit E Liquids | Dessert E Liquids | Drink E Liquids | Sweets E Liquids
Important Info:
Due to the increased demand on the bottle/plastic industries during the Covid-19 pandemic, we have had to source an alternative to our usual cap of choice for the 30 ml bottles. While this cap is of the same high standard as our usual, we have noticed that due to the slight increase in external size this is causing our machines to overtighten the cap which is causing some of the seals to crack - this does not affect the product.
Great price, fantastic choice, true flavours
Great price, fantastic range of flavours. I went for the 6 30ml bottles with 2 free. So 8 30 ml bottles total, comes with 4 bottles of 10 ml nicotine shots to put 5ml in each 30ml bottle. I choose 8 different flavours and very impressed with the 2 I have tried so far blackcurrant candy drops (you can actually taste a sweet blackcurrent taste) and cool breeze (not too minty)
Brilliant
Great juice, great price. Will be back…
Fantastic.
Great service and juice as always. Been using you for years. Keep up the good work.👍
Fab Flavor & Value for money
Have ordered a number of times from Vapegoo and they always deliver. I always purchase the 30ml as the juice don't go to waste, Very true to flavors chosen. Great value for money. Would recommend to anyone.
Best Juice out there
I've told so many of my friends about Vapegoo. Best juice I've had since I started vaping. Will not use anything else