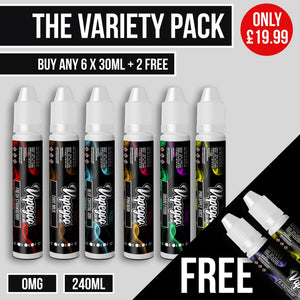 ---
What You Will Recieve In Your E Liquid Pack:
The Variety Pack - 30ml 0mg package includes:
8 x 30ml shortfill bottles

30ml 0mg liquid per bottle
Best E Liquid Deals | Everyday Cheap UK e-Liquid
About Vapegoo eLiquids
FREE Delivery | Fast Dispatch | Excellent Customer Service | UK Made
VapeGoo offers over 200 everyday e liquid flavours at cheap eliquid prices. Choose from a range of Menthol E Liquids | Tobacco E Liquids | Fruit E Liquids | Dessert E Liquids | Drink E Liquids | Sweets E Liquids
Important Info:
Due to the increased demand on the bottle/plastic industries during the Covid-19 pandemic, we have had to source an alternative to our usual cap of choice for the 30 ml bottles. While this cap is of the same high standard as our usual, we have noticed that due to the slight increase in external size this is causing our machines to overtighten the cap which is causing some of the seals to crack - this does not affect the product.
Good way to test the flavours.
I bought these to basically run throu some of the different flavours before buying a larger size. It gives you the flexibility to try at least 6, or in my case 8 different types before diving in and ordering. Because as we all know, there is nothing worse than having 250-500ml of horrible tasting eliquid. To be honest, I'm still finding my normal juice better than any I tasted and that's without adding any nicotine. It's still a kind of shame you can't get 10ml bottles as a sample kit, but I don't think it's a total waste of time and money as I can still use the 30ml bottles as an evening flavour or a back-up if I run low.
So for the amount you get and the price, its a thumbs-up from me.
My E liquid
I have been buying from Vapegoo Pretty much back in the day when you first started selling online I have enjoyed all the liquids that you have produced part from mental which I'm not kind that but your recent batch of new liquids have been fantastic one of my favourites is mothers milk and cookie dough as I like cakes so keep making new liquid I am a zero nicotine user pretty much back in the day when he first started selling online I have enjoyed all the liquids bet you have produced document which I'm not quite but your recent better mood have been fantastic one of my favourite is mothers milk and cookie doll as I like cake so keep making I am at zero next see you your liquids and the quality that you produce are Nice
1st class
1st class products with a 1st class service.
" Who could ask for any thing more"
Regards
Doug