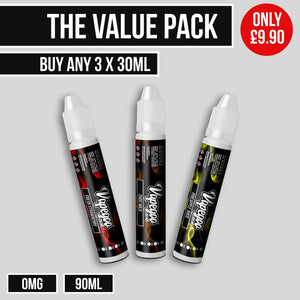 ---
What You Will Recieve In Your E Liquid Pack:
The Value Pack - 30ml 0mg (90ml) E liquid package includes:
3 x 30ml shortfill bottles

30ml 0mg liquid per bottle
Best E Liquid Deals | Everyday Cheap UK e-Liquid
About Vapegoo eLiquids
FREE Delivery | Fast Dispatch | Excellent Customer Service | UK Made
VapeGoo offers over 200 everyday e liquid flavours at cheap eliquid prices. Choose from a range of Menthol E Liquids | Tobacco E Liquids | Fruit E Liquids | Dessert E Liquids | Drink E Liquids | Sweets E Liquids


Important Info:
Due to the increased demand on the bottle/plastic industries during the Covid-19 pandemic, we have had to source an alternative to our usual cap of choice for the 30 ml bottles. While this cap is of the same high standard as our usual, we have noticed that due to the slight increase in external size this is causing our machines to overtighten the cap which is causing some of the seals to crack - this does not affect the product.