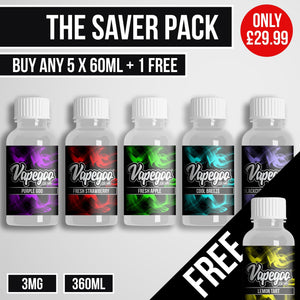 ---
What You Will Receive In Your E Liquid Pack:
The Saver Pack - 60ml 3mg package include:
5x60ml shortfill bottles

50ml of 0mg nicotine liquid per bottle

5x10ml 18mg nicotine shots
Each 60ml bottle contains 50ml of your chosen 0mg Eliquid. Add 10ml nicotine shot to each 50ml bottle so final product will be 60ml of 3mg nicotine liquid.
IMPORTANT - SHAKE WELL.
For further instructions visit our How to Mix page.
Best E Liquid Deals | Everyday Cheap UK e-Liquid
About Vapegoo eLiquids
FREE Delivery | Fast Dispatch | Excellent Customer Service | UK Made
VapeGoo offers over 200 everyday e liquid flavours at cheap eliquid prices. Choose from a range of Menthol E Liquids | Tobacco E Liquids | Fruit E Liquids | Dessert E Liquids | Drink E Liquids | Sweets E Liquids