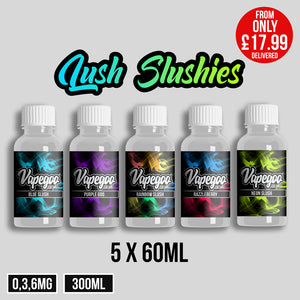 This bundle contains selected flavours and are unable to be changed. Flavours included in this bundle are:
004: Razzleberry (1 x 60ml)
078: Blue Slush (1 x 60ml)
089: Green Slush (1 x 60ml)
104: Purple Goo (1 x 60ml)
108: Rainbow Slush (1 x 60ml)
0mg - 0 nic shots
3mg - 4 nic shots
6mg - 8 nic shots
Please visit our How To Mix page for information on mixing: vapegoo.co.uk/pages/how-to-mix
Good service great flavours
Got order next day and really pleased with flavours and price was great too.
Quick Service
Received very quickly and taste amazing
Value for the money
Really good price and Always in nice premium package came very quickly 5star service but juice itself not my cup of tea hence i gave some of them to friends who can enjoy them. Thought i try something else this time was a miss but I'm very returning long term customer just need to find "My" taste
Amazing quality juice
The juices are really good quality. The flavours are amazing. Especially love the neon slush.
The name says it all.....Lush!
Fantastic flavours in premium looking bottles with super fast delivery!
What is there not to like?
Awesome service!