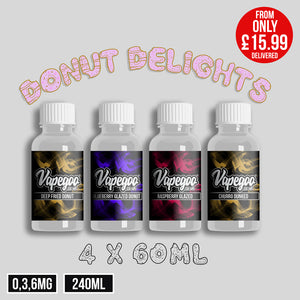 This bundle contains selected flavours and are unable to be changed. Flavours included in this bundle are:
010: Deep Fried Donut (1 x 60ml)
085: Blueberry Glazed Donut (1 x 60ml)
100: Raspberry Gazed (1 x 60ml)
120: Churro Dunked (1 x 60ml)
0mg - 0 nic shots
3mg - 4 nic shots
6mg - 8 nic shots
Please visit our How To Mix page for information on mixing: vapegoo.co.uk/pages/how-to-mix
Half good, half meh.
Deep fried donut is delicious, and tastes pretty similar to a sugar coated donut.
Similarly, churro is very nice, and tastes as expected.
The two fruit donuts (blueberry and raspberry) taste a little artificial. They're not terrible by any stretch of the imagination, just a little off and not to my taste.
I probably wouldn't order again, I'd shoot for the Vanilla set as they are all amazing.
Super fast delivery, and excellent value as always though!