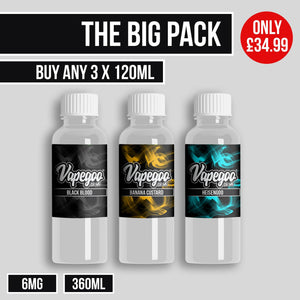 ---
What You Will Receive In Your E Liquid Pack
The Big Pack - 120ml 6mg package includes:
3 x120ml shortfill bottles
80ml of 0mg nicotine liquid per bottle
12 x 10ml 18mg nicotine shots
Each 120ml bottle contains 80ml of your chosen 0mg Eliquid. Add 4 x10ml nicotine shot to each 80ml bottle so the final product will be 120ml of 6mg nicotine liquid.
IMPORTANT - SHAKE WELL.
For further instructions visit our How to Mix page.
Best E Liquid Deals | Everyday Cheap UK e-Liquid
About Vapegoo eLiquids
FREE Delivery | Fast Dispatch | Excellent Customer Service | UK Made
VapeGoo offers over 200 everyday e liquid flavours at cheap eliquid prices. Choose from a range of Menthol E Liquids | Tobacco E Liquids | Fruit E Liquids | Dessert E Liquids | Drink E Liquids | Sweets E Liquids
Excellent
Great juice bargain price speedy service definitely recommend
Excellent as always
Juices taste great, are delivered fast and a minor issue was rectified very quickly without hassle.
All good stuff!
My order was all present & correct, great flavoured juice (and the correct amount of nic-shots - which is more than I can say for certain other online e-juice suppliers!)
Would recommend Vapegoo to all.
Good as always
Quick delivery great product, nice that they have lighted the colouring on the juice better for coils. Also liking the new bottles
Great service
Excellent service, Next day delivery and well packaged.
Excellent choice of flavours of which I am trying out some great new ones to me. Convenient bank transfer payment option.
All in all great service.