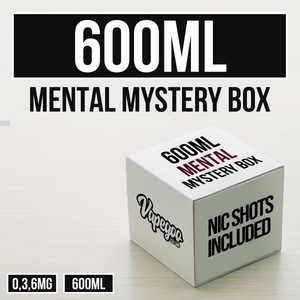 This is a mystery box containing mixed flavours from your chosen flavour type.
What you will receive in the 600ml mystery box
600ml or more of eliquid, this can be any combination of bottles sizes - 30ml, 60ml and 120ml.
For example: you might receive 10 x 60ml or 2 x 120ml +4 x 60ml + 4 x 30ml
Your order will contain sufficient nic shots to achieve your chosen nic strength if ordering 3mg or 6mg.
3mg:
30ml add 5ml (half nic shot)
60ml add 10ml (1 nic shot)
120ml add 20ml (2 nic shots)
6mg:
30ml add 10ml (1 nic shot)
60ml add 20ml (2 nic shot)
120ml add 40ml (4 nic shots)
Important: The mystery boxes are non-refundable (if not to your liking). Please note that your order will not arrive in a box. 
By ordering this pack you agree to purchase randomly selected flavours that are not changeable.
What's in the flavour type?
1. Randomly selected = This will be a completely random selection across all our flavour ranges. There may be more than 1 bottle from any of the following categories: Fruit, Menthol, Ice, Drinks, Candy, Tobacco, Dessert, etc.
2. Fruit = This will be a completely random selection of fruit-based flavours. Some flavours may contain Ice or Menthol. However, by selecting a fruit pack every flavour will fruit based.
3. Menthol/Ice = This will be a completely random selection of menthol/ice-based flavours.
4. Dessert = This will be a completely random selection of dessert-based flavours. For example, this could be anything from custards, doughnuts, cheesecakes to bakeries, etc.
5. Candy = This will be a completely random selection of candy-based flavours.
ONLY available for UK orders. For international orders please email us at: vapegoomail@gmail.com
Perfect
Another perfect selection from Vapegoo not one flavour I didn't like well chosen
Great for discovering new Flavours
I was thinking as a pessimist that this was a way of gettold stock out.. definitely not - I've discovered new flavours I would never have ever had. I definitely recommend. I'm now vaping pineapple, lime and toffee. 👌
incredible bargain selection
Great selection of flavours, you may find ones you love, and some you don't much like, but on a budget it's perfect to get you through a month or more depending on how often you vape.
Was a bit unsure about whether to get the mystery box as obviously you don't know what you will get but thought I'd take a punt while I had a voucher code. Has a good mix of flavours, only a couple my husband doesn't like but I'll have them instead. Good value for money and quick delivery
Good
Really quick delivery! Love the idea of having a mystery box. Some nice flavours without being too sweet.